Sir Alex Ferguson: Kembalinya Cristiano Ronaldo Hanya Harapan Palsu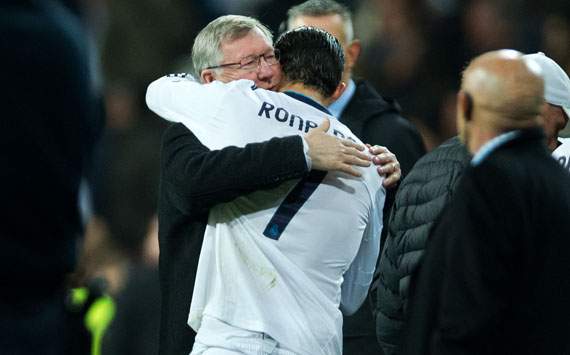 Sir Alex Ferguson dan Ronaldo
Sir Alex memandang Cristiano Ronaldo tak mungkin kembali merumput untuk Manchester United.
Sir Alex Ferguson menepis spekulasi seputar kemungkinan Cristiano Ronaldo kembali memperkuat Manchester United.
Bulan lalu mengemuka rumor yang mengklaim The Red Devils tengah menyiapkan sebuah skema untuk memulangkan kembali CR7, yang empat tahun silam dijual dengan banderol transfer termahal dunia ke Real Madrid, pada musim panas.
Namun menurut Sir Alex, kepulangan sang megabintang asal Portugal ke Theatre of Dreams hanyalah harapan palsu.
"Itu harapan palsu. Tak ada hal apa pun yang membuat saya berpikir dia bisa kembali ke sini," tutur bos gaek kelahiran Skotlandia itu kepada
Sky Sports
.
"Dia punya sisa kontrak dua tahun di Real Madrid, dan saya yakin kedua belah pihak tengah bernegosiasi untuk memperpanjang kontrak."
"Mungkin agennya hanya sedang memainkan siasatnya."
Apa pun, Ronaldo untuk pertama kalinya bakal balik ke Old Trafford sebagai lawan saat berkunjung bersama Los Merengues di
leg
kedua perdelapan-final Liga Champions, Selasa (5/3) malam waktu setempat.
"Cristiano akan diterima dengan sangat baik. Semua pemain yang telah kembali ke sini, dan telah menjadi pemain hebat, disambut hangat," ucap Fergie.
"Saya punya sebuah rencana. Menggunakan golok. Dan rencana B adalah menggunakan senapan mesin!" jawabnya bergurau saat ditanya strateginya untuk mematikan mantan pemain kesayangannya itu.